Hey there, Food Adventurer Friend,
It's Thanksgiving Day weekend. Only days ago we stirred, simmered, sautéed, and seasoned mac n'cheese and other family favorites. For hours.
And, oh, yes, let's not forget that big bird🦃 we roasted.
So you know what that means, don't you?
That the lazy-hazy days of holiday leftovers has begun!
In fact, I'm munching on a square of Thanksgiving Day coffee cake right now.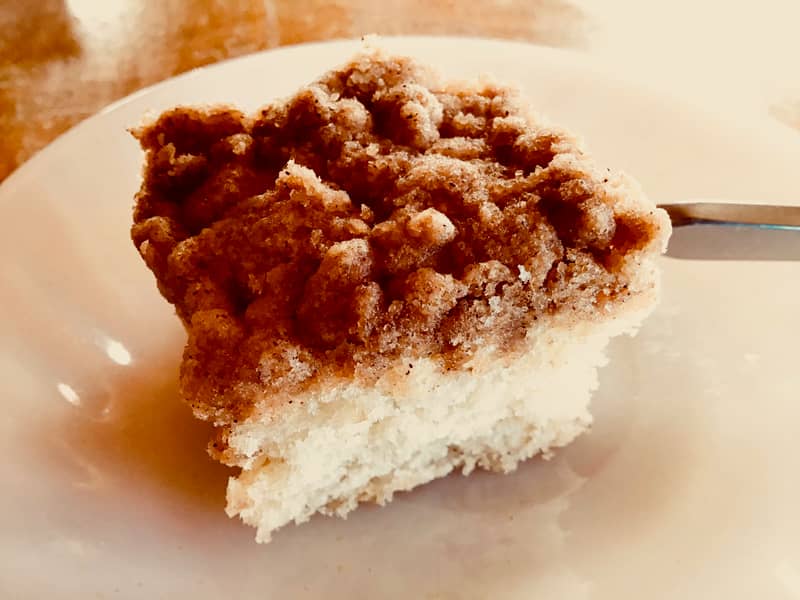 Good to the last crumb coffee cake 😊. Something else to be thankful for.
What are you munching on? Something sugar-sweet? Or salty?
If you happen to prefer the latter, this week's portion of food and travel-related goodness is especially for you.
Just read on and soon, with a simple click, you may very well uncover the secret to re-creating fast food gold✨ on your very own stovetop!
Okay, no more teasing. Here are our ~
FIVE BITES
1. Do you remember how perfectly perfect McDonald's fries🍟 used to taste until an anti-fats crusader bullied the company into making them "healthy?" Well, thanks to a die-hard fan of those fries who happens to write for a living, we may have the original recipe for McDonald's French fries! (Or something very close to it.)
2. If your peeps eat like my peeps, stuffing is likely the first dish to disappear😋 from your holiday table. However, on the off chance you ever do end up with any to spare, these recipes for what to do with leftover stuffing will come in handy.
3. Taking one of more of these (currently discounted) virtual classes will help satisfy your curiosity for international art🖼, food🍽, and travel🛤 until the real thing becomes easier to do.
4. I've gotten pretty good at ignoring the calls to "Buy, buy, buy" on Black Friday BUT deep discounts on magazines about food (like Food & Wine🍷), home & garden (like Southern Living), travel (like Travel + Leisure), and other stuff we like tend to get my attention. So here ya go.
5. A quote about cooking (sort of) : "I just bought a microwave fireplace🔥… You can spend an entire evening in front of it in only eight minutes."— Steven Wright
Dive deep,
Not yet subscribed to Five Bites? We'd love to have you join us by signing up here.