Hey there, Food Adventurer Friend ~
Are you having as much trouble believing it's almost Thanksgiving as I am?
My husband, L., and I have spent nine full winters in New Mexico since moving here from New York City. That's a good chunk of time. Still, the fact that I can get away with wearing little more than a sweatshirt and jeans outside this late in the year still floors me.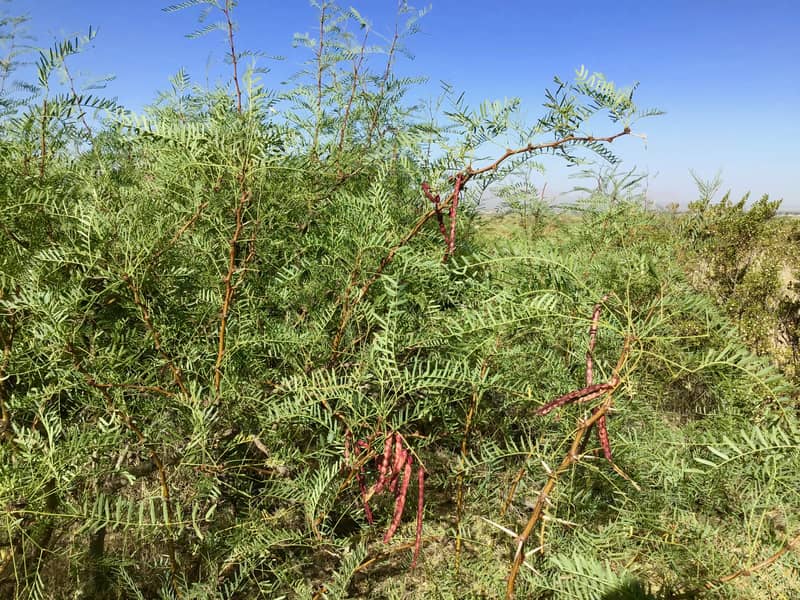 The weather here in Southern NM is, in a word, mild. Yet, the ripe pods on this mesquite bush tells us autumn is here.
But just last week, I gave a virtual talk to my cousin's 5th grade class in Brooklyn about my time in the Navy. They had invited me to speak in honor of Veteran's Day, which I was happy to do (and had fun doing!)
That Veteran's Day talk is also proof that we're smack in the middle of November.
It means not only Thanksgiving but Christmas and the New Year are fast approaching. So here's a question for you:
Right now, while you've got 6 more weeks on your own — yeah, whether we like it or not 🙃 — what new thing, place, or idea have you been meaning to explore but haven't gotten around to yet?
It's not too late to start.
And now, here are this week's ~
FIVE BITES
1. Wow. We all knew silver foil was handy but who knew you could eat it, too? Well, you can, in India. Sweets 🍮with edible silver garnish have been a fall tradition there for centuries. Learn all about it and how to ensure your first taste will be as safe as it is delicious!
2. In one word, how would you describe your state? That's the question each of the locals surveyed in this video answer. What one of them said is why I'm getting the urge to visit Louisiana yesterday. Now it's your turn to watch and find out where you're headed.
3. Encouraging to know not all the world's restaurants are struggling this year. In Kenya's capital city, Nairobi, at least one restaurant is getting away with charging 💵 its customers skyhigh prices, and nobody minds. Not one bit.
4. With our coffee can nearly empty and Veterans Day memories still fresh, I'm checking out the options for buying primo java at this veteran-owned coffee company.
5. A quote: "We want to do a lot of stuff; we're not in great shape. We didn't get a good night's sleep. We're a little depressed. Coffee☕️ solves all these problems in one delightful little cup."—Jerry Seinfeld
Dive deep,
Not yet subscribed to Five Bites? I'd love to have you join us by signing up here.