Hey there, Food Adventurer Friend ~
How are you this first day of May? Me? I'm happy and hopeful for everyone living in the states that reopened today.
In my state, New Mexico, cases of the virus and related deaths have been in similar proportion to Alaska, another state with a lot of land and few people that has already reopened.
So our governor's decision to extend the chokehold (ahem) lockdown on "non-essential" businesses for another two weeks saddened me somewhat.
Because reopening is all about saving lives.
Poverty is as much of a killer as this virus. But last I checked, we can't control it, we can't outrun it. This thing is gonna run its course. But limiting the spread of poverty is something we can do — by letting people carry out their very essential business of earning a living.
It's time already.
Now, I'm not saying this because I'm tired of meals in styrofoam containers. (Although take-out from Aloha BBQ in Lubbock, TX tastes fab no matter what it comes in!)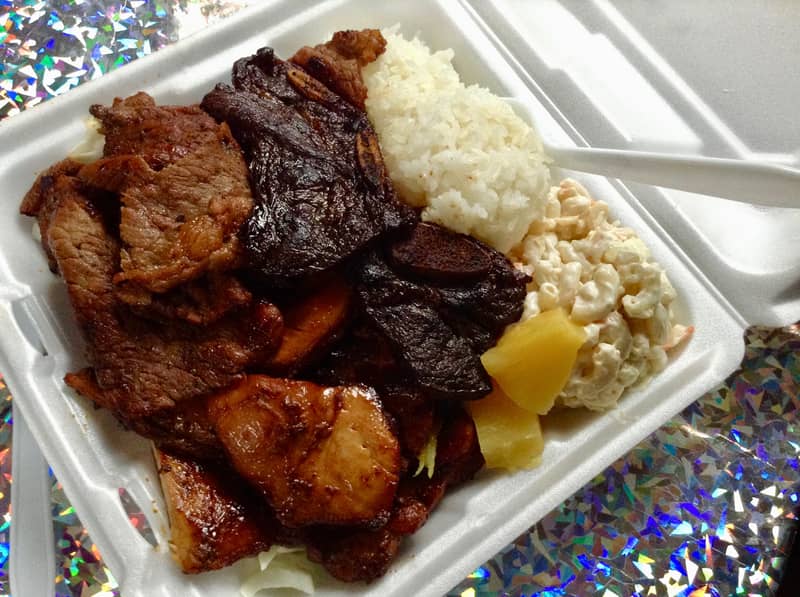 Nor am I saying this because I don't know what it feels like to have a loved one die with this illness. (To date, I've lost cousins in NYC and Atlanta.)
I'm saying this because locally-owned small business people:
Tend to be smart. After all, most have built something where there used to be nothing, zip, nada. Plus, they…
Want to keep their business "babies" alive and see them thrive.
And no way that happens unless they do everything possible to help their customers do the same.
Sure, some business people will only do the right thing because they know sick people don't come back and will stop saying good things about them on Instagram. Plus, they'll tell everybody who'll listen where they think they were exposed and THAT would be the end of their business.
But most will do it because they just plain care.
So I'm expecting businesses to come up with new and health-promoting ways to serve us as the pandemic continues– from social distancing to food trucks.
How some chefs hope to woo us despite the lockdown is the topic of today's first two ~
FIVE BITES
1. AN IDEA + A PLACE TO EAT IN KANSAS:
Imagine you're driving cross-country, hungry, with your mouth set for good barbecue ~ but it's in the wee hours of the morning. If you're in or near Kansas City, no problem. Get your Barbecue on Demand from the temperature-controlled vending machine at Jones Barbecue. Just put in cash, push a button, and — bop! — down drops your order of rib tips, wings, and assorted BBQ sandwiches. Mac-n-cheese and other sides? Yep, they've got those, too.
2. AN IDEA + A PLACE TO EAT IN SWEDEN:
The owners of this One-Seat Only Restaurant in Sweden came up with the idea for it only weeks ago, as a response to the pandemic. In fact, it doesn't open until mid-May, but word is the bookings have been rolling in. That diners can enJoy an entire meal in complete physical isolation with anyone else is its unique selling point. But one look at the photos of the proposed dishes — like the one below — make it clear the menu also has a lot to do with it.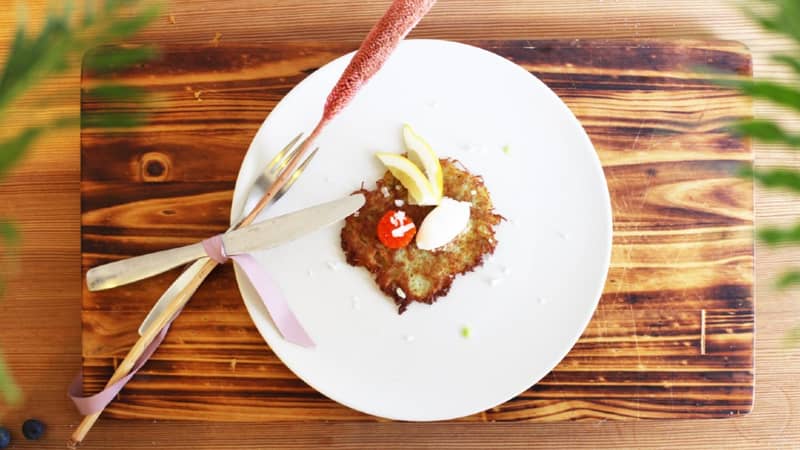 This could be a great time to encourage your favorite local restaurant owner to set up outdoor seating as soon as the law permits. Eating good food, watching people while taking in the view and lots of virus killing sunshine — what's not to love?
3. SOMETHING TO WATCH:
A YouTube channel named Peaceful Cuisine has become one of my favorite new sources for recipes with simple, natural ingredients. This recent video for Galaxy Donuts shows how to make the most fanciful-looking donuts I've ever seen. The chef's pace and presentation ~ and choice of music ~ make everything look easy-peasy. If what you enJoy about baking is not just the thing you're making, but the way you feel while making it, you'll want to give it a look. Relax, unwind, bake.
4. SOMETHING I LEARNED: Aramaic, the ancient language of the Near East I thought had long since vanished, is still very much alive. The only Aramaic I was familiar with came from short phrases of it (written in Roman letters) in my Bible. I never dreamed I'd be able to hear it spoken. Yet, now I know Detroit is home to the largest community of Chaldeans (Iraqi Christians) outside of Iraq and they speak Aramaic. They also serve delicious ancient Mesopotamian eats right here in the U.S. of A. Who knew? I didn't, even though I lived in Detroit for a year with relatives, years ago. (Yes, I have beaucoup cousins there, too, and maybe I should visit them again — and drive over to "Chaldean Town."😊)
5. ONE QUOTE:
"Restaurants are a place of gathering. They play a large role in making sure we stay a close-knit community, and that the rest of the community feels like they are at home. It lets them know that the food is out there for them." ~ Jane Shallal, editor of Ma Baseema (How Good It Is), a book about Chaldean cuisine

Have a beautiful May!
xxoo,
P.S. About that book series by Michael McGarrity that I started a few months ago… I ended up reading the entire trilogy of novels about New Mexico and the American West: Hard Country, Backlands, and The Last Ranch. What a story. There's nothing like traveling but it's exciting to discover new things about where you already are.
Not yet subscribed to Five Bites? I'd love to have you join us by signing up here.