Hey there, Food Adventurer Friend ~
Have you ever been to Hawaii? Looking back to where I was three years ago this time of year, I remember the Big Island with its volcanoes, coffee farms, and palm trees having really "bad hair days":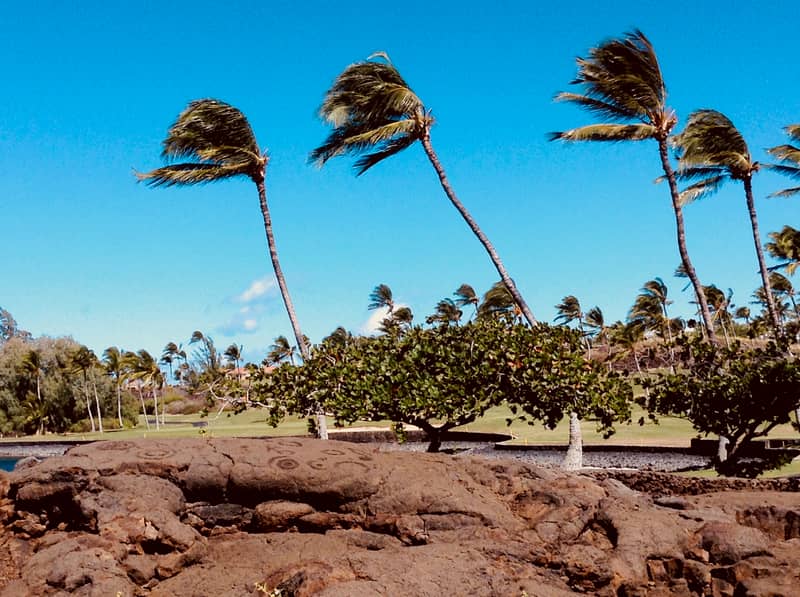 Big Island locals have nicknamed the beach and village of Waikoloa, "Waiko-blowa," for good reason. These palm trees tell us why.
In certain areas of the island, the wind blows so hard on those majestic palms 🌬 🌴 🌴 that their fronds point straight up and sideways year round!
This year's rough winds may have up-ended you, too. With maybe more to come?Whatever, I'm glad you're still here. I'm still here, too, so let's choose to move forward with hope. To focus on what we can do and help others to do the same.
As a dear friend once reminded me when the better path to take seemed clear if not easy: "What else have you got to do?"
But first things first; here are this week's ~
FIVE BITES
1. Distant pockets of green sea, green grass, and solitude is how this article depicts the small islands of Britain🇬🇧. Without a palm tree in sight and little sunshine to speak of, they're a different kind of beautiful. Maybe your kind; take a look and see.
2. Oh, yes, there's more to France than cheese, flea markets, and (really good) baguettes. Which of the items on this list of 18 French things appeals to you most?
3. If you've begun buying holiday gifts, this very special spoon 🥄 may be just the thing to thrill your favorite tea lover.
4. We already listen to podcasts while doing other things so a recipe podcast that guides as we cook along just might work. It helps that the premier recipe is a Chinese American specialty dish for Thanksgiving.
5. A quote: "Sometimes when you're in a dark place, you think you've been buried, but you've actually been planted🌻." — Christine Caine
Dive deep,
Not yet subscribed to Five Bites? We'd love to have you join us by signing up here.